Thanks to feedback from Facebook and Reddit, I shaved several items off of my packing list. All clothes not on my person fit into one side of a packing cube. Electronic accessories, toiletries and medications fit into two small mesh bags. This efficiency led to an unexpected dilema.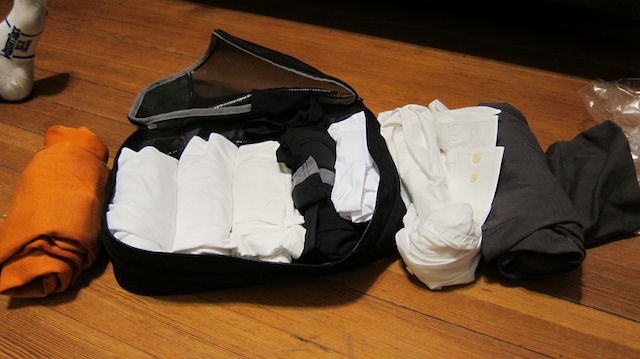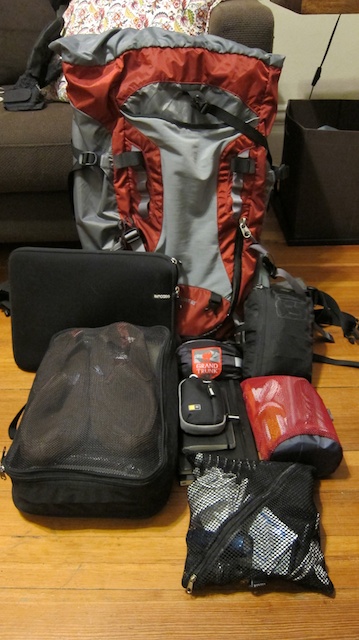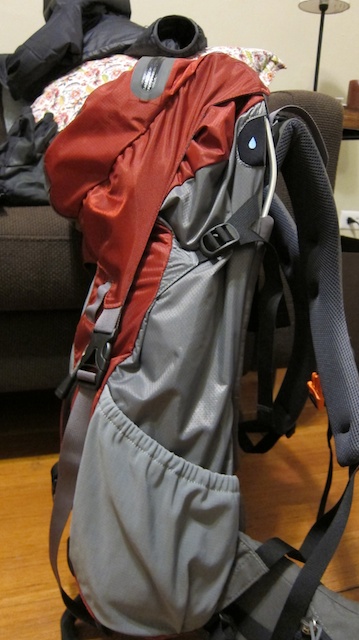 in_question on Reddit commented "your bag is 2x too big." After fitting everything into it, I agreed. John Gore, friend and efficiency packing aficionado, pointed out that there is a chance I might have to check my pack in some situations which is suboptimal. I bought this pack off of Craigslist for $80, but its 65 liter capacity is clearly designed for hiking through the wilderness with a sleeping bag, tent and food for three days.
For the last two years, I've been rocking a Timbuk2 Swig* as my go bag. It's been a faithful companion through two biking seasons, daily grocery runs and numerous weekend overnighters without showing a glimpse of wear. I rarely leave the house without it, and have been consistently amazed by how much stuff I can cram into it: UPS shipments, groceries, and just last week, a half sheet tray. From the time Rachel and I decided to go on this trip, I've lamented not being able to take this bag with me – I just didn't imagine that I'd be able to fit three months of clothes into it. But after John left that night, out of curiosity, I moved the contents from my hiking pack into my Timbuk2 bag.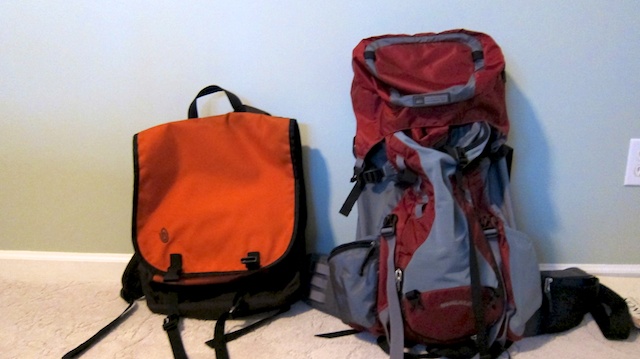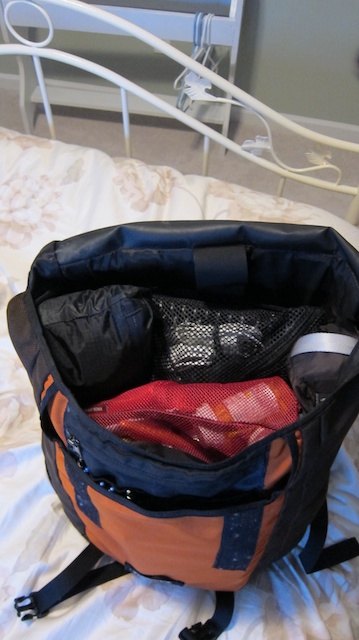 For the last two days I've been torn on which bag to take. My Timbuk2 is emotionally comfortable. It's an old friend, tested and true. It's far less cumbersome, which on a trip governed by simplicity, seems reason enough. I feel it makes me look like less of a tourist, and perhaps, less of a target.
My two primary concerns are weight - without the frame and hip support of the hiking pack, I will be carrying all of the weight on my shoulders and back which could get painful if we find ourselves walking long distances. Last night I filled it to the brim, walked 1.5 miles around Rachel's parents house in Buffalo and found that I was able to manage the 23 pounds without any soreness.
But what if it grows heavier?  It seems reasonable to assume that we'll pick up some things along the way, and I'm leaving the house with limited excess capacity. However, just like how moving into a 600 sqft. apartment would keep us from buying crap we don't need, perhaps the smaller bag will do the same. But just in case, I also have the Patagonia Day Pack which stays compressed in my Timbuk2, but can be unfurled and checked or attached via carabiniere if necessary.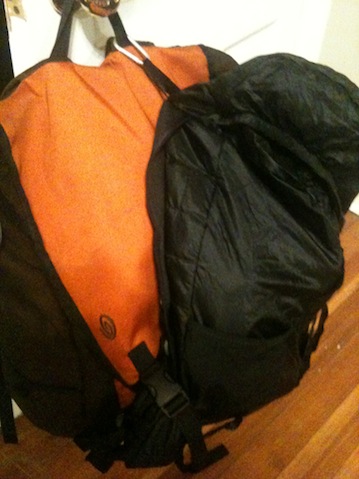 All in all, deciding to take the Timbuk2 has been a pleasant end to a surprisingly enjoyable packing experience. I'm quite pleased with how little we're managing to escape with. Next week, we discover what we forgot….