Reddit's Turkish Travel Suggestions
A few weeks ago, I asked to Reddit for things to do in Turkey.
Reddit, as it so often does, gloriously rose to the occasion. Over forty people joined the discussion, and their advice has greatly shaped the direction of our trip.
I've collated their responses, as a gift of thanks to /r/travel, in hopes that it will be useful to the next Redditor making a voyage to Turkey.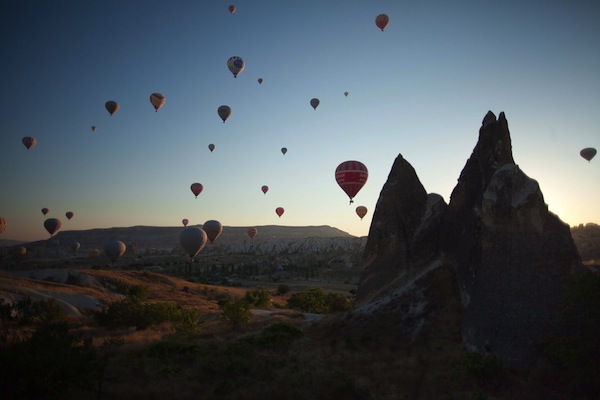 The hot air balloons of Cappadocia, by MaxBrand
Dress
pack warm clothing. Something about the cold in Istanbul…it gets in your bones
the temperature lies in Istanbul. Maybe it's because you are surrounded by water, but the cold is hard to shake here. I have found myself shivering on 70 degree evenings. Bring lots of layering clothes and a rain jacket.
Istanbul
get late-night hookah
take a ferry to the Asian side
Hagia Sophia - Check out the wishing column in the near left corner on the first floor and make a wish.
Grand Bazaar
Suleymaniye mosque (arguably more beautiful than Hagia Sofia)
Underground Basilica Cistern - walk all the way to the end to see the giant medusa heads holding up the columns
Tour of Dolambahce Palace
Topkapi Palace has some great views.
plan a day just to ride the ferries up the bosphorus to explore the less traveled areas.
Take the day tours on the islands out to the Black Sea.
If you're soccer fans, catch a Fenerbahce game.
Taksim is nice for partying and Western shopping
My favorite part of Istanbul is Kadikoy, you might consider staying there for a few days. It's about a 25 minute ferry from either Eminonu or Karakoy, both close to all the sites.
Food
Definitely try out the baklava, they have so many varieties it blows the mind.
Eat a lot of donner kabop.
eat at Kosebasi
eat baluk ekmek off one of the boats in the Bosphorus - they hang around near the bridges
It's very easy to pay far, far too much for very mediocre food here.
Take the train to the Eminonu stop in Sultanahmet (area of Istanbul where you'll find the Blue Mosque and Hagia Sophia). Cross the bridge and down to your left there is a fish market. Get a grilled fish sandwich; they are amazing.
Drink Raki, if you can stomach it.
Cappadocia (Goreme)
world famous for hot air balloons
The surreal scenery and empty roads make driving around a very pleasant experience and there's no lack of really fascinating things to go see.
definitely worth spending some time in (maybe 5 days?)
rent a scooter while you're there to get around
The surreal scenery and empty roads make driving around a very pleasant experience
no lack of really fascinating things to go see
See the underground cities
Considered one of the best places in the world to take a hot air balloon
Arif pansion - a bit of a walk up the hill but if you get a scooter for the time you're there it's got some great rooms of varying prices and the best views.
Outside of Istanbul
From Goreme ideally go to Pamukkale, on your way to Ephesus. If you can't handle the buses any more it's near Izmir and you can probably fly between the two rather cheaply.
take the sleeper car to Denizli, see Pamukkale, rent a car, and go east
drove the black sea coast to NE Turkey, went into Georgia
Get a bus to Cappadocia, stay in a cave
Go west then to Ephesus - just walking down the stone road to the library is an experience of a lifetime.
Also see Pammukale near Ephesus
The town of selcuk next to ephesus. It's a beautiful area and is not overly touristy. Worth spending a day or two relaxing. Also a really nice museum you could spend a lot of time in.
Check out Turkey travel planner website but their bus system is world class and so cheap.
travel to Mount Nemrut and Sanliurfa. Bring really warm clothes and climb it for sunrise wow.
If you're at all into hiking, do the first three day stretch of the Lycian way
splurge a bit for a night or two this place - the closest approximation to paradise I have ever seen.
Mardin, a beautiful town to wander around,
Hasenkeyf, a sparsely populated ancient city overlooking the Tigris. definitely not to be missed if you're in the area.
There really isn't anything to see at Troy.
Eastern Turkey: check out Dogubeyazit and Mardin, Mt. Ararat
Take a night bus to Goreme from Istanbul. Spend a couple days sightseeing there. Some absolutely amazing stuff there.
Here is the approximate route I followed : about 3.5K kilometers, and saw some incredible places. I would particularily recommend (following the order in which I saw them): Aspendos - Perga - Phaselis - Pamukkale - Pergamum
Not to Do
I found Mount Nemrut impressive, but the tourist ripoff vultures that populate the area really soured the experience: all in all it wasn't worth the trip out.
the larger cities in eastern Turkey weren't very interesting - they're mostly ugly and unless you have special interest in the history of the region there's not much to see.
Thank you to bryanplayspiano, brasscaribou, skz, MaxBrand, Pantadarell, whywontyoowork, innocuous_nub, seambyseam and many others.