We got off the plane in Istanbul last Friday at 4:00pm and were greeted by Rachel's friend, Stephanie, whom she hadn't seen in seven years. Stephanie said, "My goal is to keep you guys up until 9pm so that you can go to bed on Istanbul time and beat your jet-lag."
And she did. Stephanie took us straight from the airport on a whirlwind tour of Istanbul's Old Town. She showed us how to use public transportation, pointed out the sites that we would want to come back to, and took us out for our first Turkish meal.
It's something we wouldn't have been able to do if we had to drop our bags off at her apartment, or roll suitcases across the broken brick sidewalks of Istanbul.
This is everything that Rachel brought for four weeks in Turkey: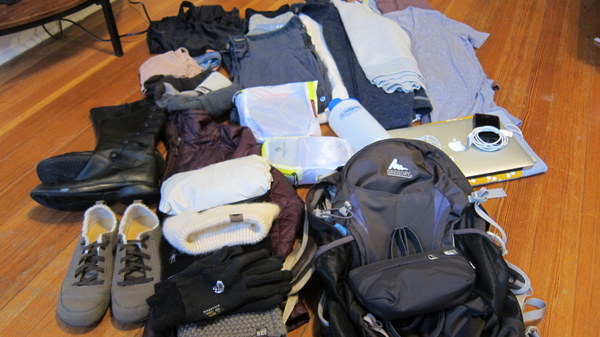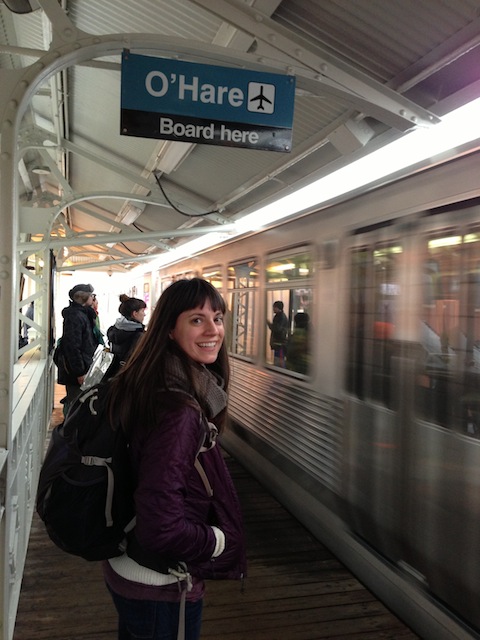 My pack is a bit larger than hers, but after putting on the clothes I wore out the door, everything else packed up like this: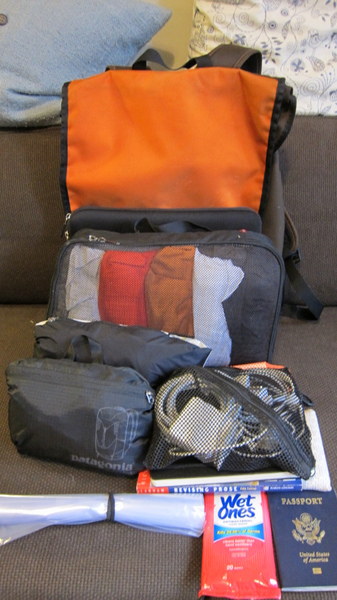 We've taken several short trips over long weekends since last year's European adventure. We treated them as "practice runs" for this trip. We learned something new every time - how to work together, how to get around a new city, how to pace ourselves (for us it's 'plan one site and one meal a day, leave the rest open to the moment.')
In regards to packing, the lessons tend to be more like "Hey, I haven't used this" than "I wish I had brought…" For Turkey, I shaved a half-dozen items off of last year's inventory with no major additions aside from a fleece, a scarf and a cool hat.
Aside from the mobility, packing light gives us greater peace of mind - we don't worry if the airline lost our bag, or if we forgot something at our last spot. It frees up mental cycles to focus on what we came here to do.
If you're planning a vacation, or even a long weekend, I'd encourage you to give it a try. You'll be surprised by what you can live without.
And if you'd like a head start, here is my packing list for our current adventure:
Clothes
2 synthetic short-sleeve t-shirts
2 synthetic long-sleeve base layer shirts
1 merino-wool sweater
1 pair jeans
1 pair Prana Zion
1 pair running shorts / swim suit
2 pair boxer briefs
1 pair synthetic long underwear
3 pairs wicking hiking socks
Waterproof Hiking boots
Lightweight, thin sole, slip on shoes
Full-zip Fleece
Patagonia Nano Puff and Torrent Shell
Gloves
Beanie
Scarf
Gorin Brothers Hard Eye old man hat
Misc Gear
Electronics
13" MacBook Air + charger
2 SDHD memory cards
2 Camera batteries + charger
iPhone + charger
Headphones
Toiletries
Toothbrush
Toothpaste
Floss
Deodorant
Nail clippers
Razor and blades
Shaving cream
Toilet paper (just in case)
Medications
Band Aids
Neosporin
Ibuprofen
Stuff from last year's list that I did not bring:
Anything cotton except jeans, a scarf and an old man hat.
Sleep sack - Mine was too small, and ripped on the second night I used it. Aside from the farm, clean sheets were never hard to come by.
Backpack Lock - We didn't spend much time on trains, or in hostels, and simply never used it.
Gorillapod flexible tripod - it's too easy to balance the camera on a book or rock.
Compact Portable Speaker - It was nice to have, but we won't miss it.
Braided Clothes Line - It was easy enough to find other spots to hang our clothes.
External Hard Drive - Everything goes into the cloud.