Why We're Leaving Chicago and Moving to New York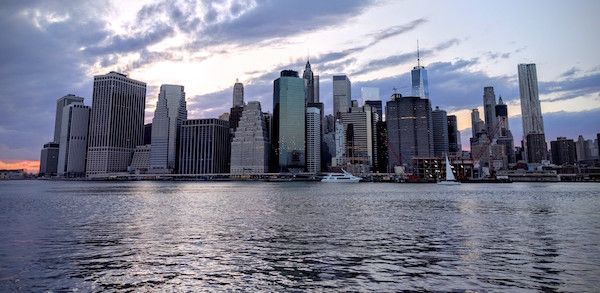 I moved to Chicago eleven years ago. Rachel moved here the year after that. If you know us or have read any number of posts on this blog, you know that I have a deep affection for this city. I love, love, love Chicago. For much of the last decade I was convinced that I'd never leave.
And yet, at the end of this month we're moving to Brooklyn.
Having a kid forces you to take a longer view on life. It forces you to acknowledge that the best place to live in your single 20s and DINK 30s might not be the best place to plant your stake in the ground for the long run – or the best place to raise a daughter.
A few things happened late last year to accelerate that line of thought. There was the Laquan McDonald cover up. There was the CPS bribery case. There was Illinois' continued budget gridlock. There was the city raising already high taxes to cover pensions that we'll never be able to pay.
Maybe you could shrug these problems off if you had faith in the folks tasked with fixing them. But there were also these comments from outgoing Legislative Inspector General Faisal Khan (his office is responsible for investigating City Council corruption):
"I will be honest with you — I could never have envisioned a city like Chicago being so devoid of ethical morals and values when it came to our elected officials. I never could have imagined the lack of interest in ethics oversight in a major city like Chicago. I could not believe how backwards the city was when it came to ethics. It needs to be blown up and started all over again."
Chicago is a great city. But it's got deeply-entrenched systemic dysfunction, and there are no signs that that trajectory will improve in the relevant future. Those issues aren't enough for us to write the city off completely – it's got far too much going for it to do that. But it does change the conversation from "Chicago For Life!" to "Maybe it'd be prudent to familiarize ourselves with the other options."
It will never get easier for our family to investigate those options. My job allows me to work from approximately anywhere. Rachel stays home with Emma, so she doesn't have to switch jobs. Emma's not yet in school. The only friction to moving is the (non-trivial) expense and effort of packing up our stuff and hauling it to the East Coast. Maybe Chicago is where we end up long-term. Maybe it's not. But if we're going to check out other spots, now's the time to do it.
The decision to move has been a complicated one. That said, if we were forced to give only a single reason why we were moving, it'd be this: we are ready for a new adventure.
Chicago is a stunningly beautiful city. But too many sights that once inspired me with awe now feel routine. Sights like…
The lake approach to Midway from the right side of the plane.
The Blue Angels buzzing the city at the end of the summer.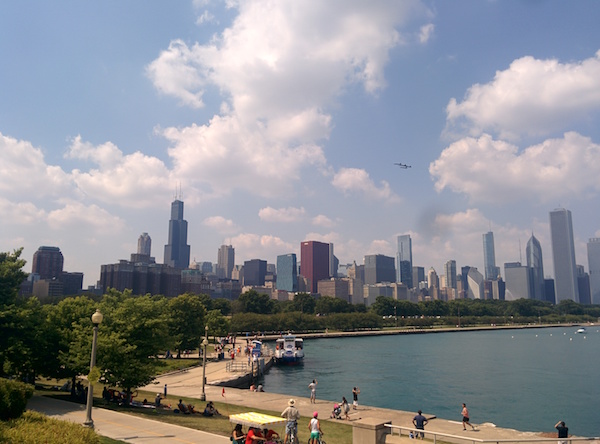 The Sears Tower out our old bedroom window.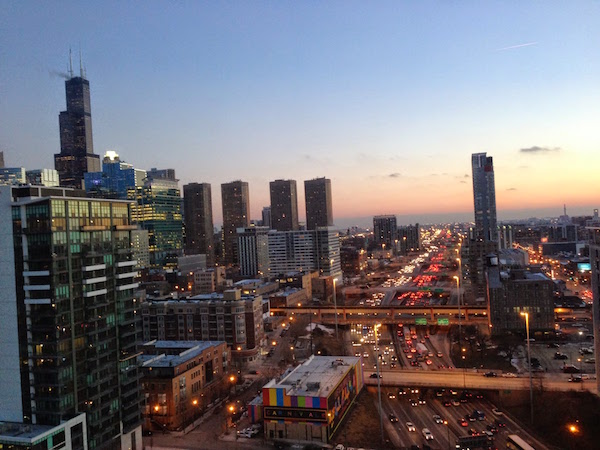 The Chicago River when I walked out of my old office.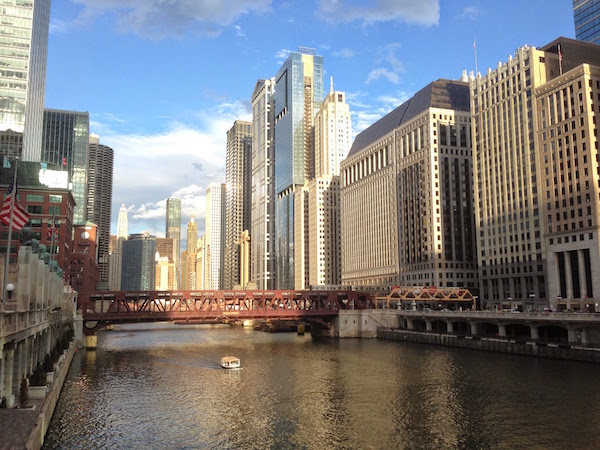 Riding our bikes along the lake at North Avenue beach.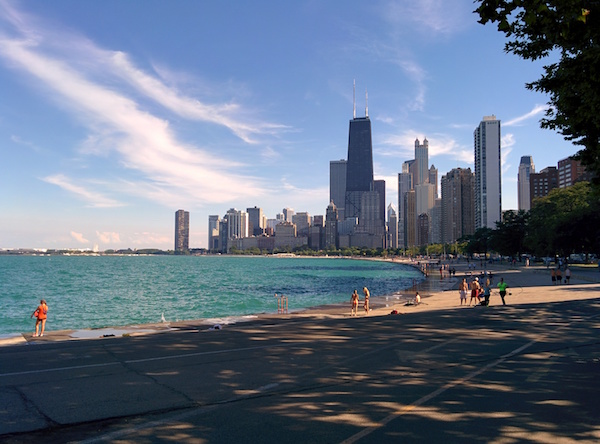 Running the Loop with 40,000 people.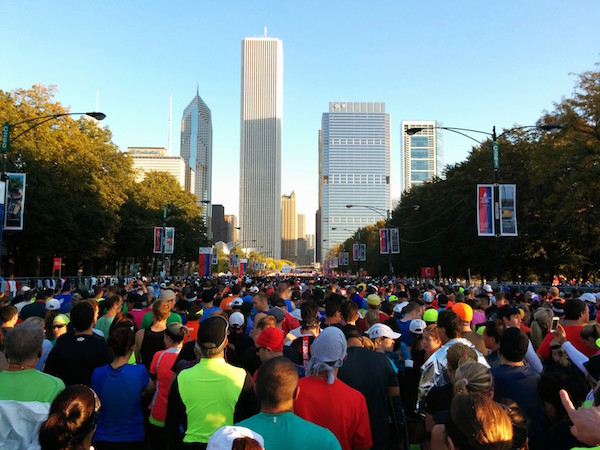 Celebrating a friend's marriage on top of the Tribune Tower.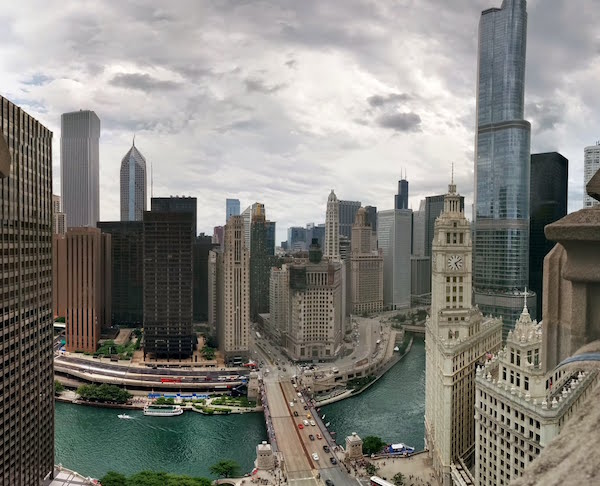 The lake during another brutal winter.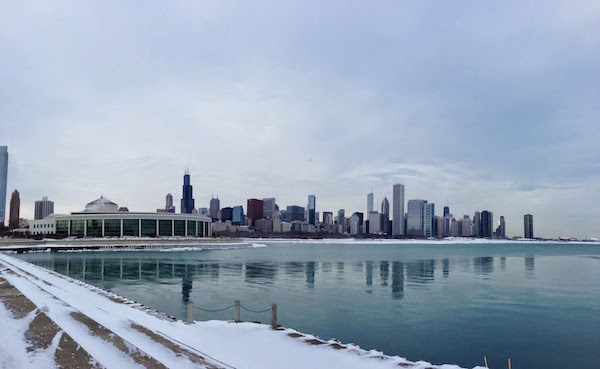 It's not that this great city has no more awe to offer. But after a decade, we've definitely hit diminishing returns. We're ready for a new adventure.
Why New York?
Last December, Rachel, Emma, and made or our first trip to New York City as a family. The two of them flew up to meet me at the end of a work trip, and we made a long weekend out of it, staying with our friends Hannah and Ricky Robinett (Ricky and I work on the same team at Twilio).
At the time, Hannah and Ricky lived in a highrise in Downtown Brooklyn. When we walked into their place and saw their view, I felt the same awe that I used to feel in Chicago.
They've since moved to a new spot in DUBMO, trading the view from their apartment with this view from their roof: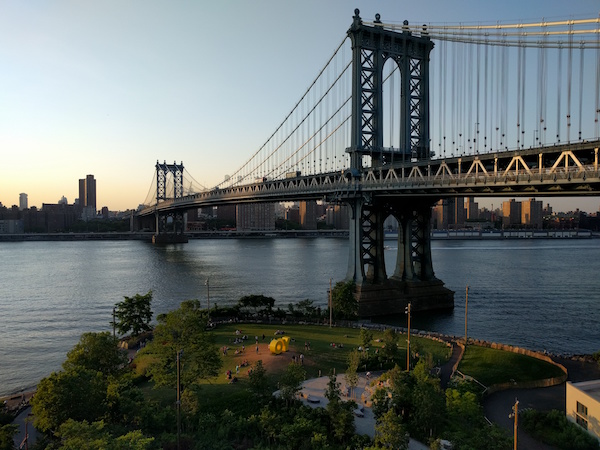 And out their front door: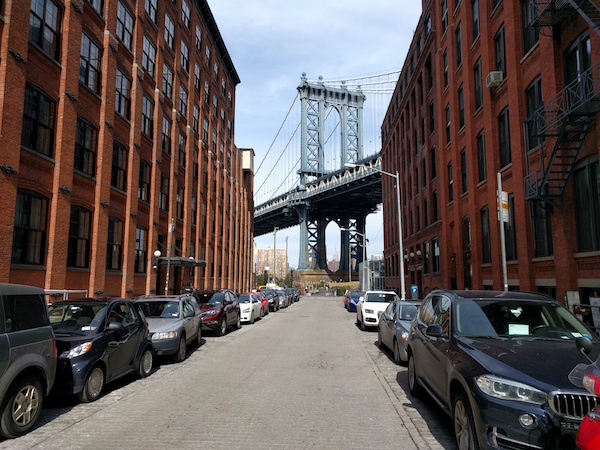 And from their "front lawn":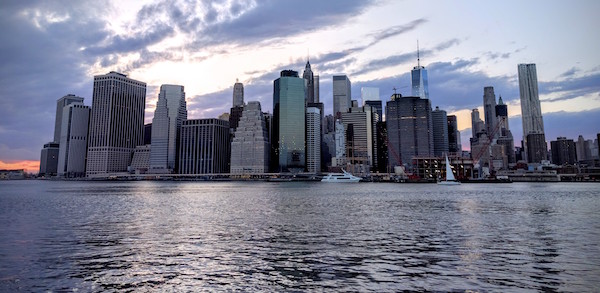 Hannah and Ricky suggested we take Emma to the Brooklyn Children's Museum. It was awesome. It's huge and so well kept. There are a bunch of different exhibits, such as the water table.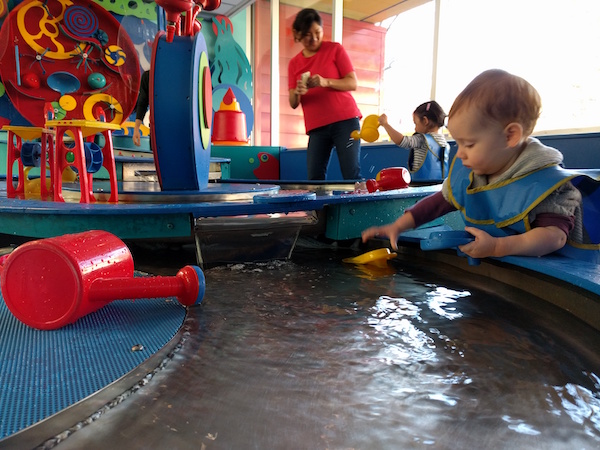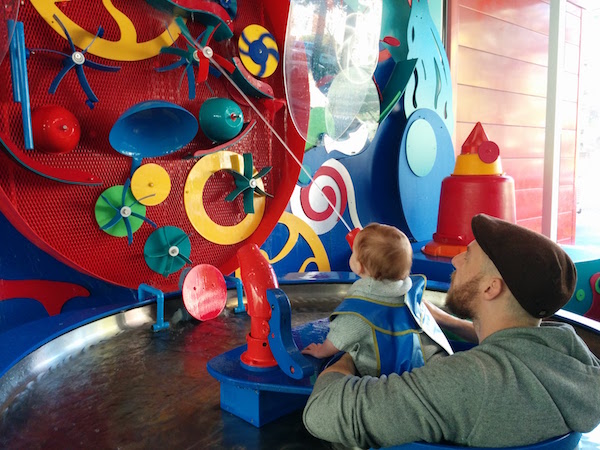 And the MTA bus.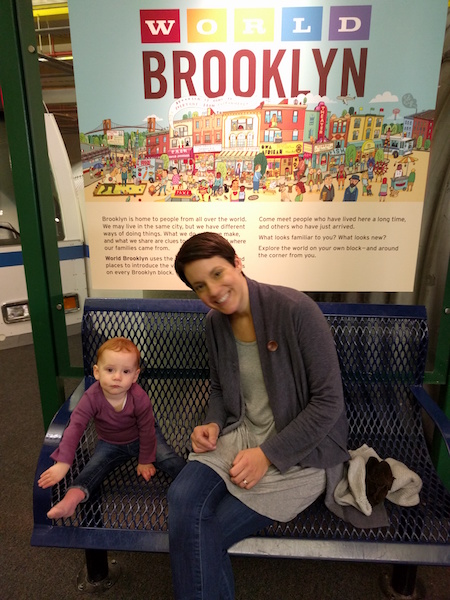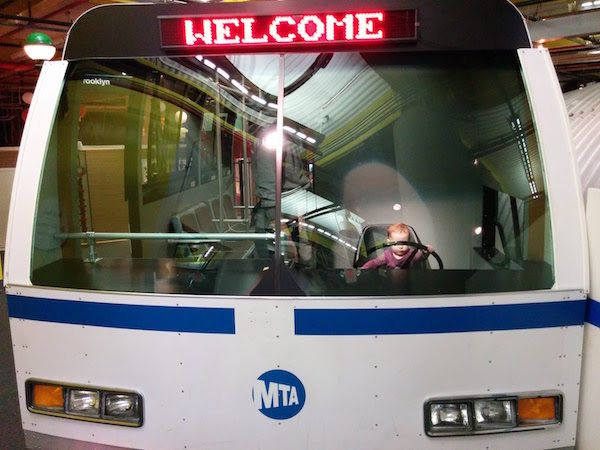 And the exploration of world dance.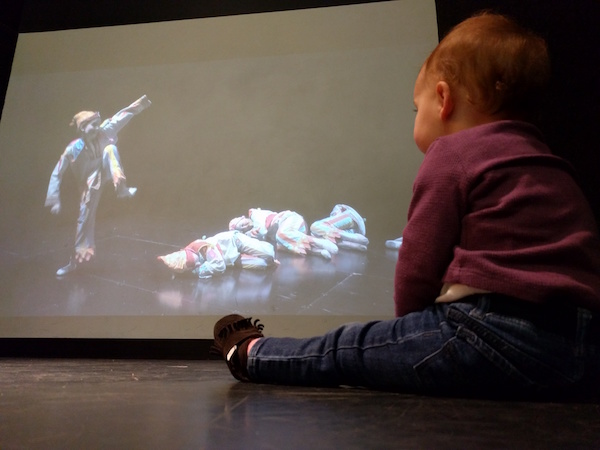 We're going from room to room, and Emma's having such a blast. She's never been anywhere like this before. And then there's this moment when she's playing with a dinosaur on the floor and we realize that the three kids playing with her are Black, Hispanic, and Asian.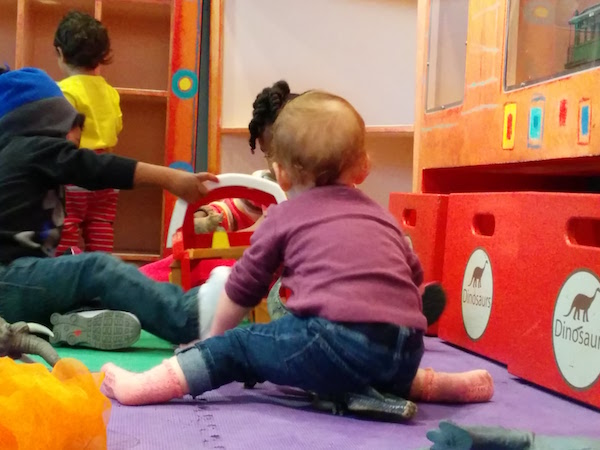 Chicago's diverse, but incredibly segregated. The difference between the two cities is most noticeable on the trains. In Chicago, you tell me the line and the stop, and I can probably tell you what a majority of the folks on that train are going to look like. In New York, in seemingly every car, you'll see a dozen different kinds of people.
I don't want to pretend that New York is one big happy melting pot, but there's no other city in the world where you can find folks of every ethnicity living so close to one another. It feels like – and maybe this is my rose-colored newbie glasses speaking – but it feels like people there identify as New Yorkers first.
Every time a person of color smiles at Emma on the subway, every time someone with an accent says "Hi" to her, every time she shares a toy with a kid who doesn't look like her, that's an experience that nudges her a couple steps in the direction of the woman that we hope she becomes. It's not an experience she gets in any other city. But in New York, it happens every single day.
On the first day of that first trip back in December, on a lark I asked Rachel, "Would you move here?" We both agreed, "No." Not now. It's a cool city. Maybe if we had moved here ten years ago instead of Chicago. I'm sure we would have loved it. But it doesn't make sense now. Not with Emma. Not at this stage in our life. Now's the time for something quieter. Something cheaper. Something easier.
The second day, after the museum, we started to ask Hannah and Ricky specific questions about living there. By that night, we had Street Easy (the apartment searching app) installed on our phones. You know, just to poke around and gasp at how ridiculous the rent was.
On the third day, we rebooked our return flight to give us another day to explore. On Sunday, we attended Hannah and Ricky's church in Lower Manhattan, then flew home that afternoon.
On the train from Midway Airport to downtown, there's a spot where the view opens up to a panorama of the Chicago skyline from the south. I've seen that view dozens of times. This was the first time in eleven years that it felt small.
We spent the rest of December praying for wisdom and soliciting advice from friends. I think there were three questions we needed to grapple with:
Will we regret leaving our Chicago lives behind?
Realistically, what are the odds that we decide to stay in New York long-term? Though we're not as acquainted with them, New York has its own systemic dysfunctions, especially around schools.
Is it prudent to pay, as my friend Gabe put it, "eye watering" rent? The difference between our Chicago and NYC rent is approximately what we currently save each month.
One of the first people I consulted was my wise friend Ryan Evans. He could tell we were stressed about the "monumental" decision to leave Chicago behind. He said:
It's only a big deal if your identity is wrapped up in where you live. Otherwise, it's just math: either the finances work or they don't. Besides, you can always come back. Everyone will still be here.
Ricky also said two things that stuck with me:
"If you ask anyone who lives here, they'll tell you that moving to New York never makes sense on paper."
And:
"1 in 36 people in the United States live in New York City."
If 1 in 36 people make it work, maybe we could too.
Ultimately, it was a change in mindset that eased our concerns.
A few years before Emma, Rachel and I quit our jobs to do some extended travel in Western Europe and, in a later trip, Turkey. For a period of time, we decided to be less comfortable and to save less money for the sake of collecting more stories. We've never regretted those trips. In fact, we can look back at those times and say, "The trajectory of our lives shifted for the better because of that decision."
Today, with a dog, a child, and a job I don't want to quit, extended travel isn't an option. But if you can't quit your job and travel the world, living in New York City is a solid second place. There we'll find enough sights and stories to keep us in awe for at least a couple years.
And so, we'll pay the ridiculous rent. We'll adapt to the small apartment with no laundry and no A/C. We'll trade our car for an over-crowded train. We'll carry groceries down the street and up a flight of stairs.
And during the week, I'll ride my bike across the bridge into Manhattan. I'll gawk at the Empire State Building as I cross Fifth Avenue on my way into the Twilio office (which will be a nice change after two years working alone in a coworking space). And on my way home, I'll stop occasionally for a game of chess in Union Square or Washington Square Park.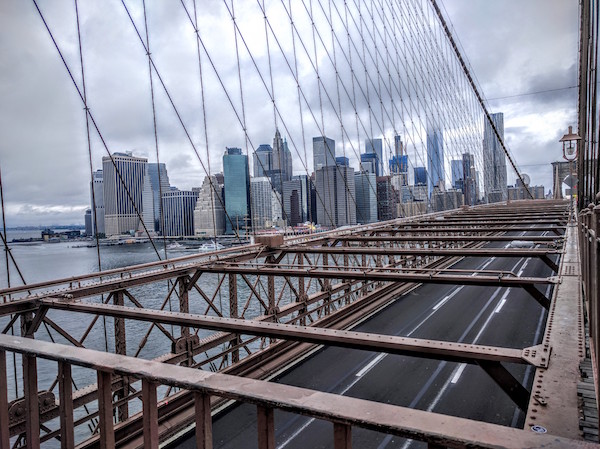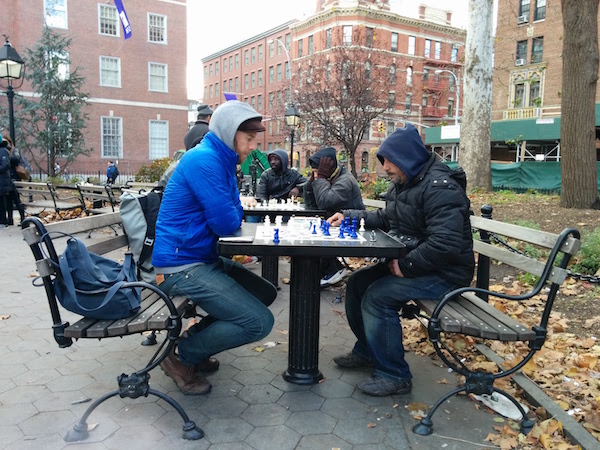 While I'm at work, Rachel and Emma will walk past beautiful brownstones on their way to a playground a few blocks from our apartment. They'll go to story time at the Brooklyn Public Library, or stroll down the promenade of Brooklyn Heights.
On the weekends, we'll join the tourists who traveled across the planet for a once-in-a-lifetime vacation to the city in which we live. We'll visit the Statue of Liberty. We'll catch a matinee on Broadway. We'll explore the vastness of Central Park. We'll take lots of pictures.
Worst case scenario, we spend two years exploring and decide that New York isn't for us. We come back to Chicago, or move on to the next spot, with two years of living in the greatest city in the world under our belts.
Don't get me wrong, we hope we decide to stay. We hope we can make it in New York. If for no other reason, it sounds really cool to say you're a New Yorker – though, it's not hard to imagine a host of other benefits that living in The City offers in the long run.
But we don't need to decide that today. All we know is that if we don't go now, we'll forever wonder "What if?" And even though there have been many moments when Rachel and I look at each other and say, "What are we doing?", we're grateful that life's circumstances have created a window of opportunity for us to embark on another exciting adventure.