Last Thursday, 100 people hopped on buses coming from five cities to converge on Nashville. While on the bus, they formed 22 teams with folks they had never met before, decided on an idea, and tried to create a new business.
StartupBus has been doing this for six years. The business ideas have historically been web and mobile apps, but this was the first year that they've had a "Maker Bus" focused on creating physical hardware.
That bus originated out of Chicago.
They weren't sure the Maker Bus was going to work. I mean, you can imagine banging away on a laptop in the back of a bus for three days, but what are you going to do, bring a 3D printer on the bus?
Our riders brought boxes full of wires and buttons and tools. Sponsors donated Arduinos and Sparks and Raspberry Pis. We made overnight stops in TechShops in Detroit and Pittsburgh giving us access to every manner of fabrication tools available.
And it worked.
For the first time in StartupBus history, every single team from a bus – the Maker Bus – proceeded to the semi-finals. And the Chicago bus was the only bus to send two teams the finals this year.
Our team created PillyPod1, a device that alerts you when loved ones don't take their meds. The idea came from Lily Born, a 12 year old girl who has become famous for another of her inventions. She invented the The Kangaroo Cup after seeing that her Grandfather's Parkinson's caused him to knock over his coffee mugs. The cup kind of blew up, sending her to the White House and scoring her interviews in about every media outlet you can think of. It's such a good story.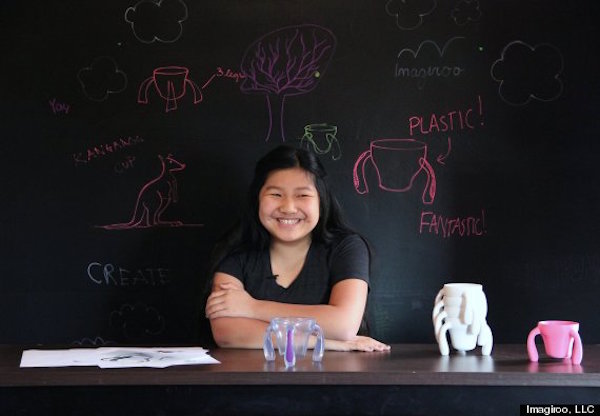 PillyPod was "born" out of a brainstorming session with Lily the night before the bus left: that her grandfather often forgot to take his meds, and correspondingly, that her family was worried sick about him. She realized that if you got a precise enough scale you could tell if a pill was removed from a bottle. If you could also send alerts to loved ones, they wouldn't have to worry so much.
Her father and partner in crime, Joe Born, brought the idea to the Maker Bus. We formed a team of three: Joe, who has a 20 year career in bringing consumer electronic products to market. Lisa Ghisolf, founder of the prominent Chicago design studio Gizmo Design. I was the team hacker, handling the hardware and software integration.
Over three days we built a prototype using an off-the-shelf pill organizer, high-precision scale, a case we laser cut at TechShop, an Arduino Yun, and Twilio to send text messages. We engaged an industrial designer to create renderings of what a final version might look like based on feedback solicited from doctors and caregivers. And we crafted a three minute pitch which we presented to judges through the elimination round, the semi-finals, and the finals.
And I'm honored to say that our team, representing Chicago from the inaugural MakerBus, took runner-up in the competition.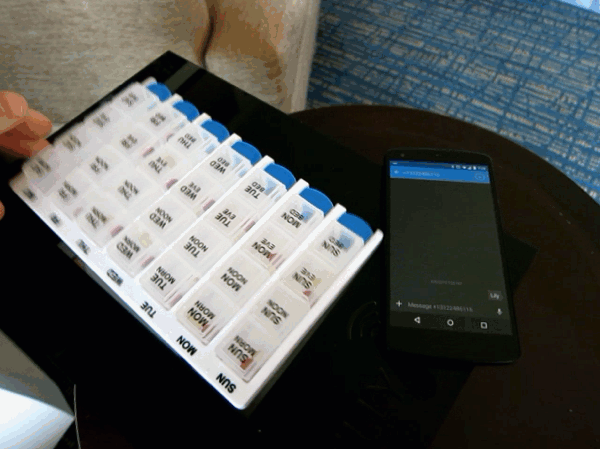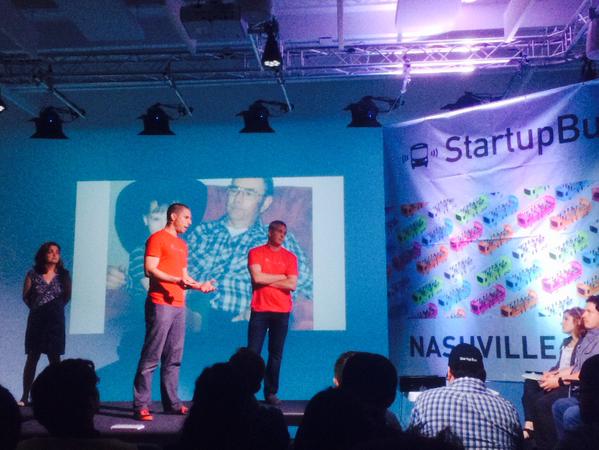 We started with pillypad.co, but turns out pillypad.com is basically a porn site, which somehow slipped through our rigorous due diligence process. PillyPod it is! ↩