Reggie's Desk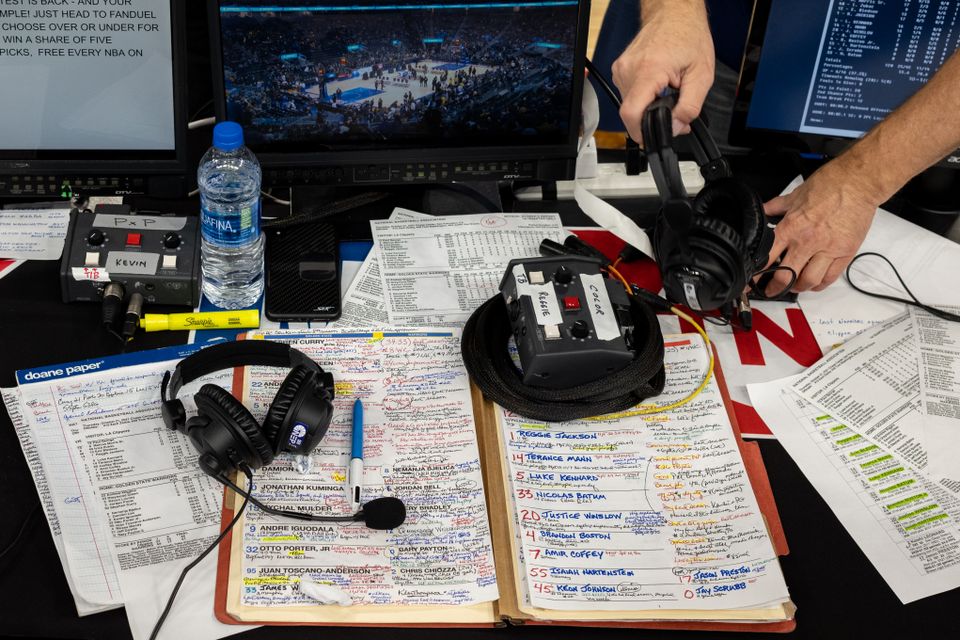 Ricky Robinett's a good friend and longtime coworker. And by "coworker," I mean "boss." We were both in San Francisco last week for SIGNAL, Twilio's first in-person conference since the pandemic started. It was also Ricky's last week on the job before he takes some time off and comes back to a new role at Twilio.
Ricky's a big NBA fan, so after the conference was over we got great tickets for the Warrior's home opener to celebrate his five year run of leading the best developer relations team on the planet.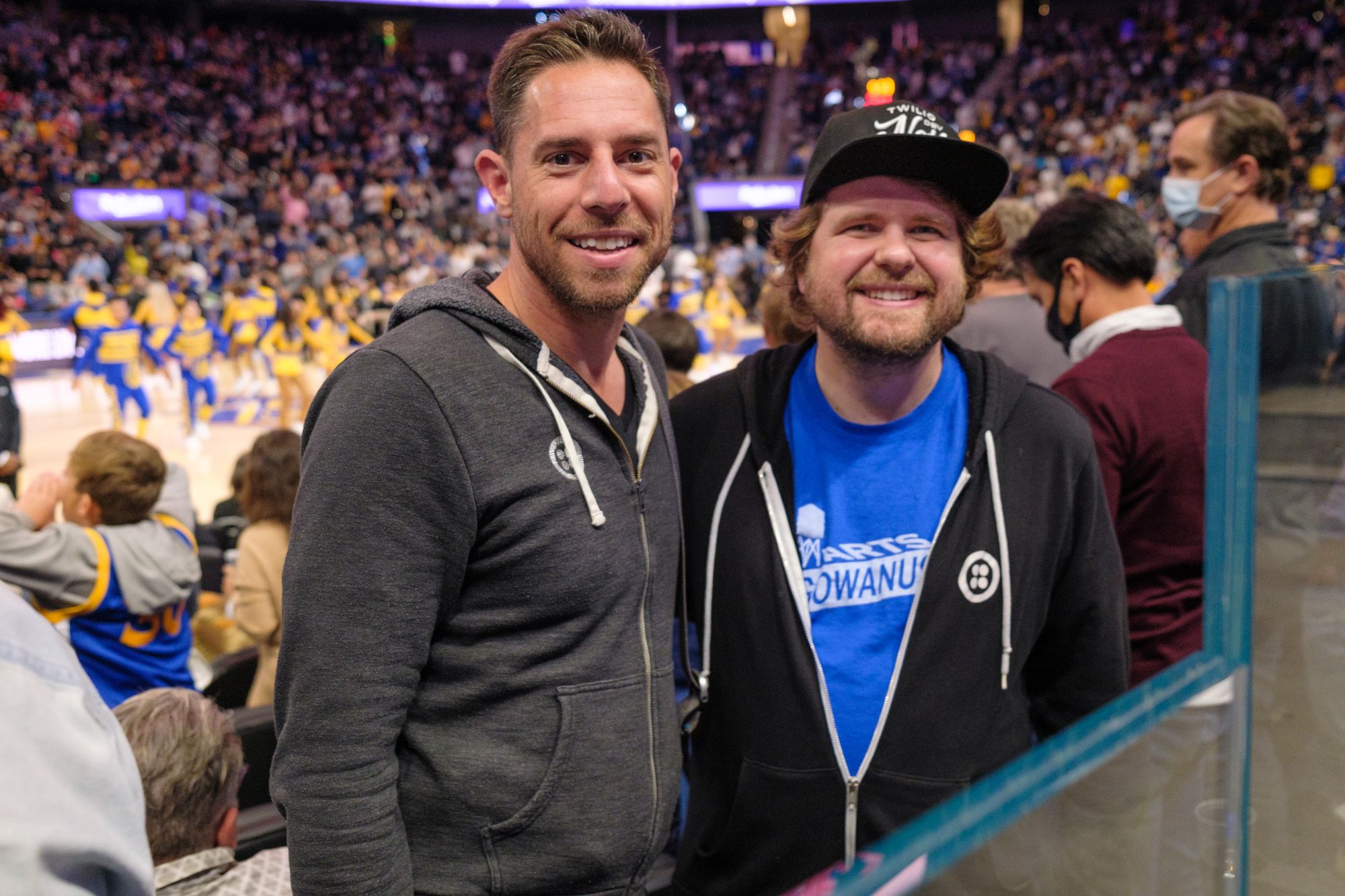 The camera I carry everyday, my Fuji X100V, has a fixed 35mm lens and is only little bit larger than a point-and-shoot, but its sensor is every bit as capable as a "big" camera. Its profile and design makes it un-intimidating enough that people don't freak out when you point it at them. Also, arenas with restrictions on "professional cameras" don't bat an eye when you carry it through security.
A 35mm isn't what most photographers would choose when shooting sports, but the proximity of our seats combined with the camera's highly croppable images yielded some surprisingly good action shots.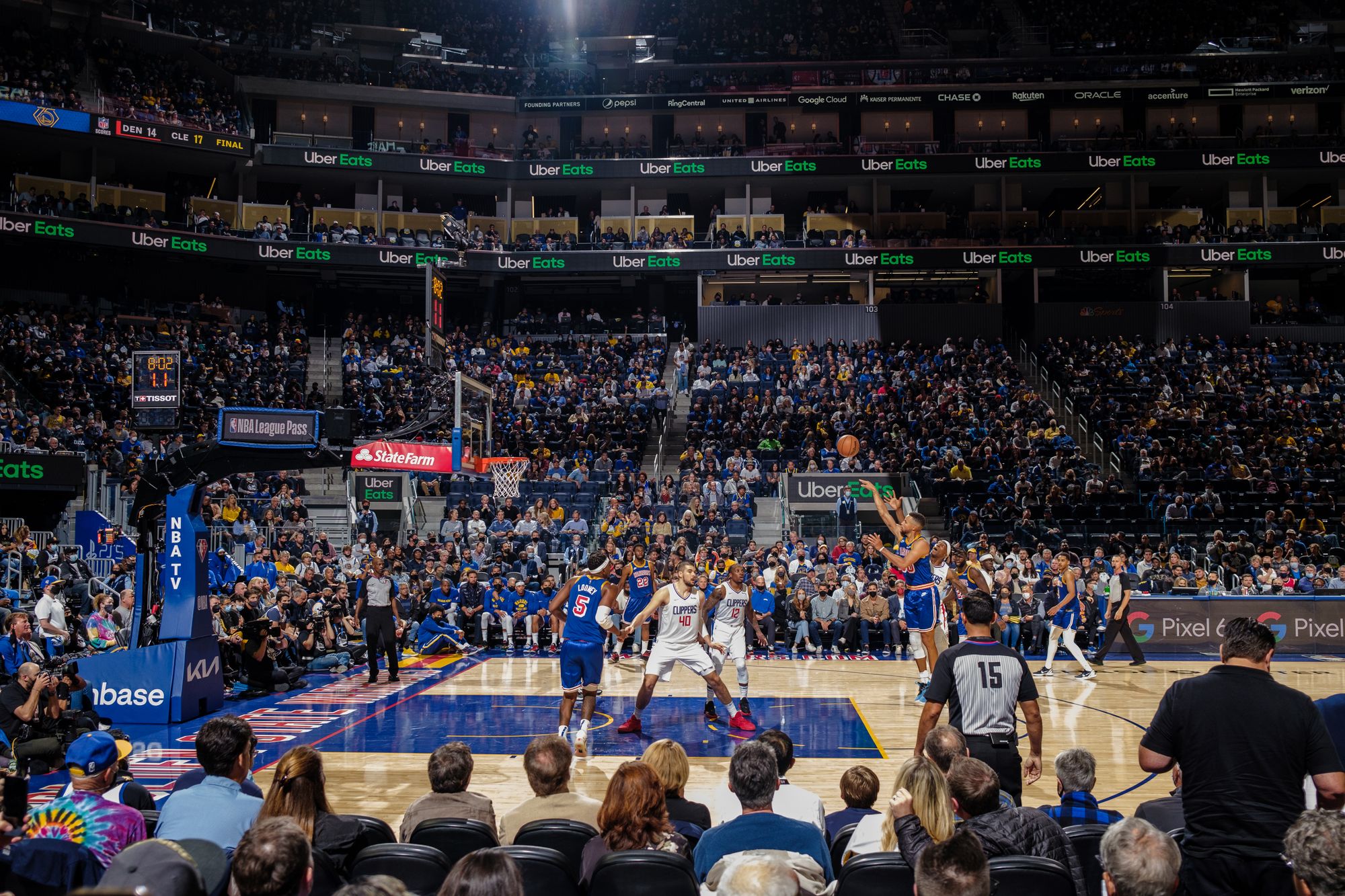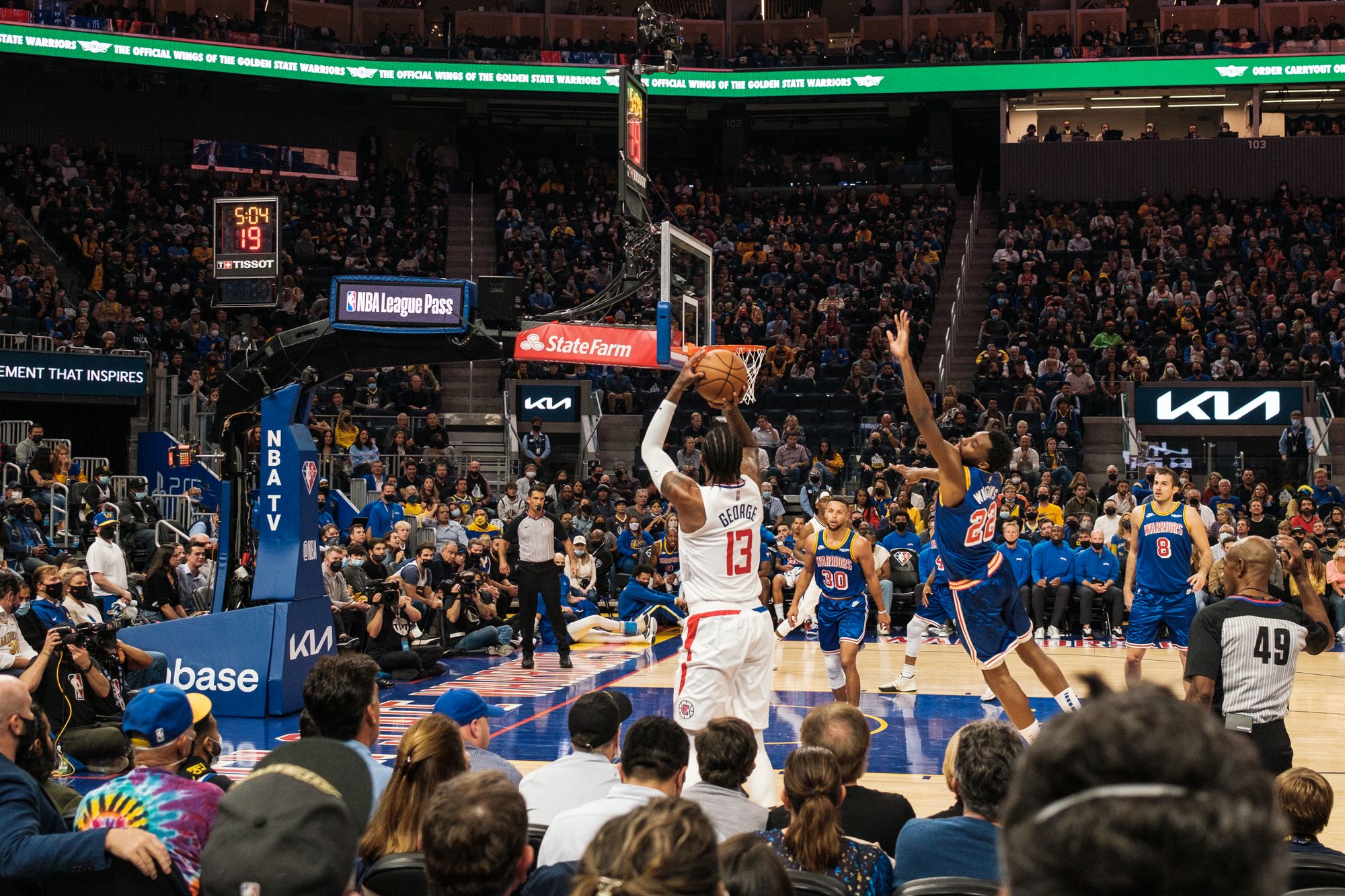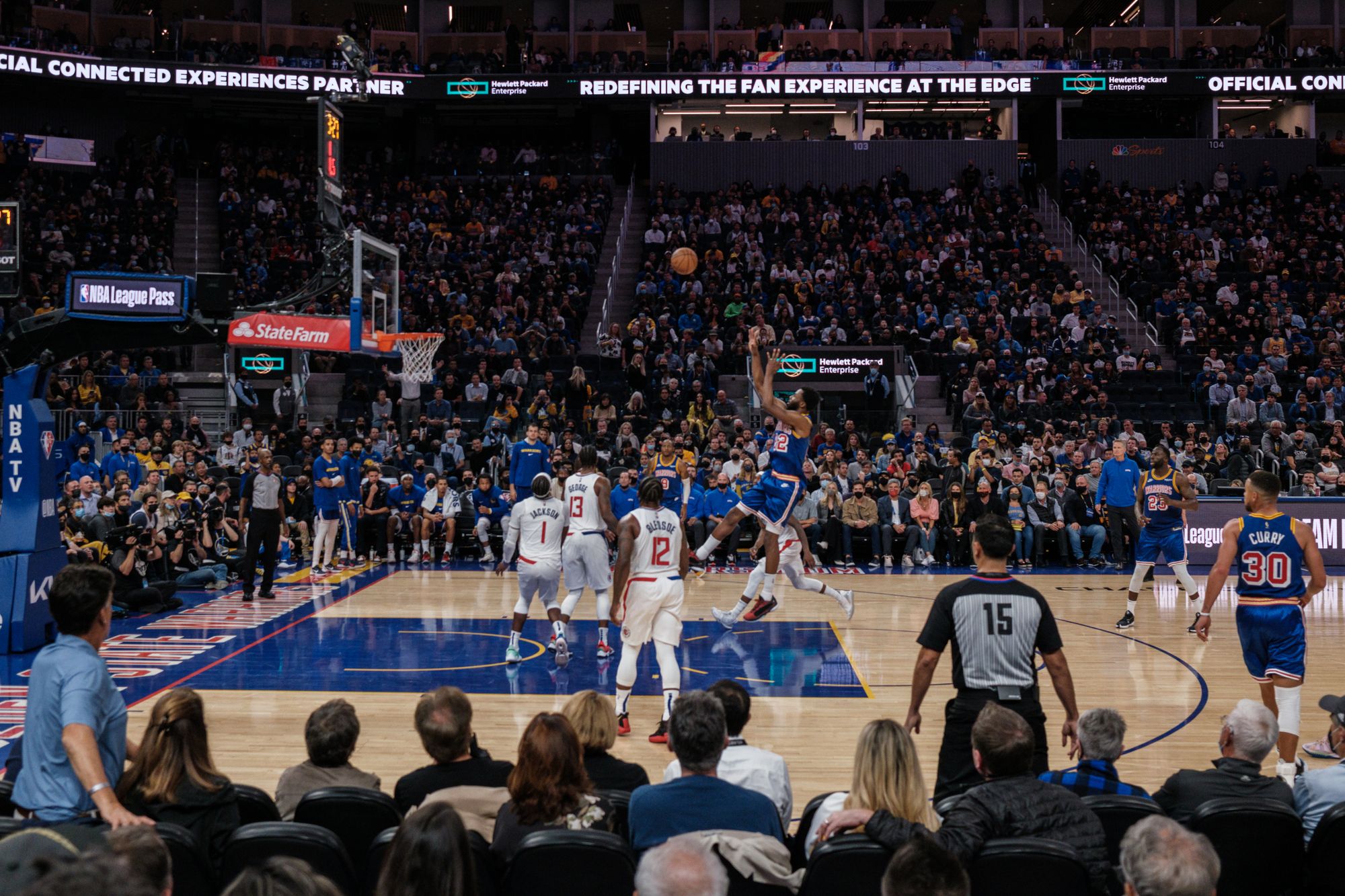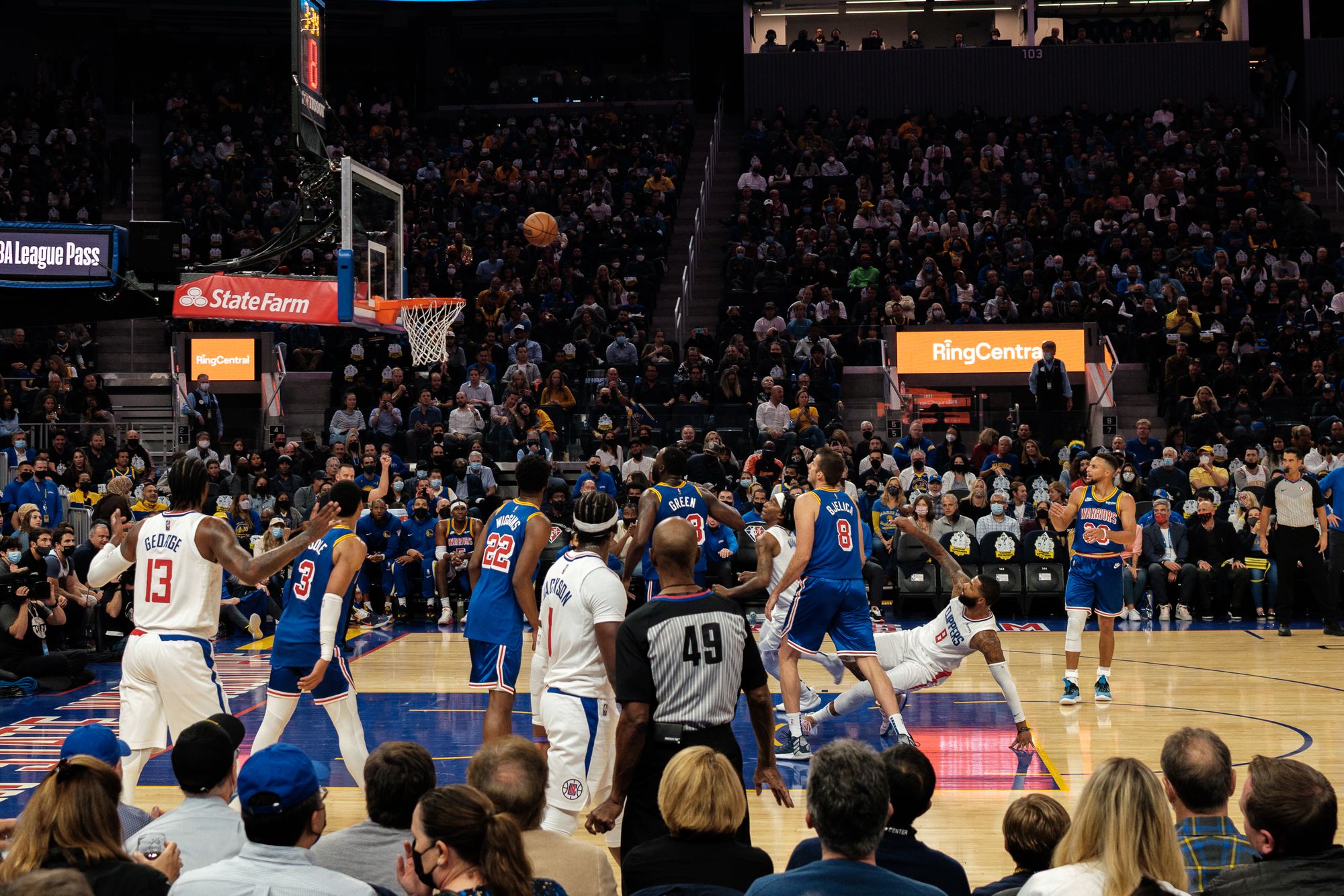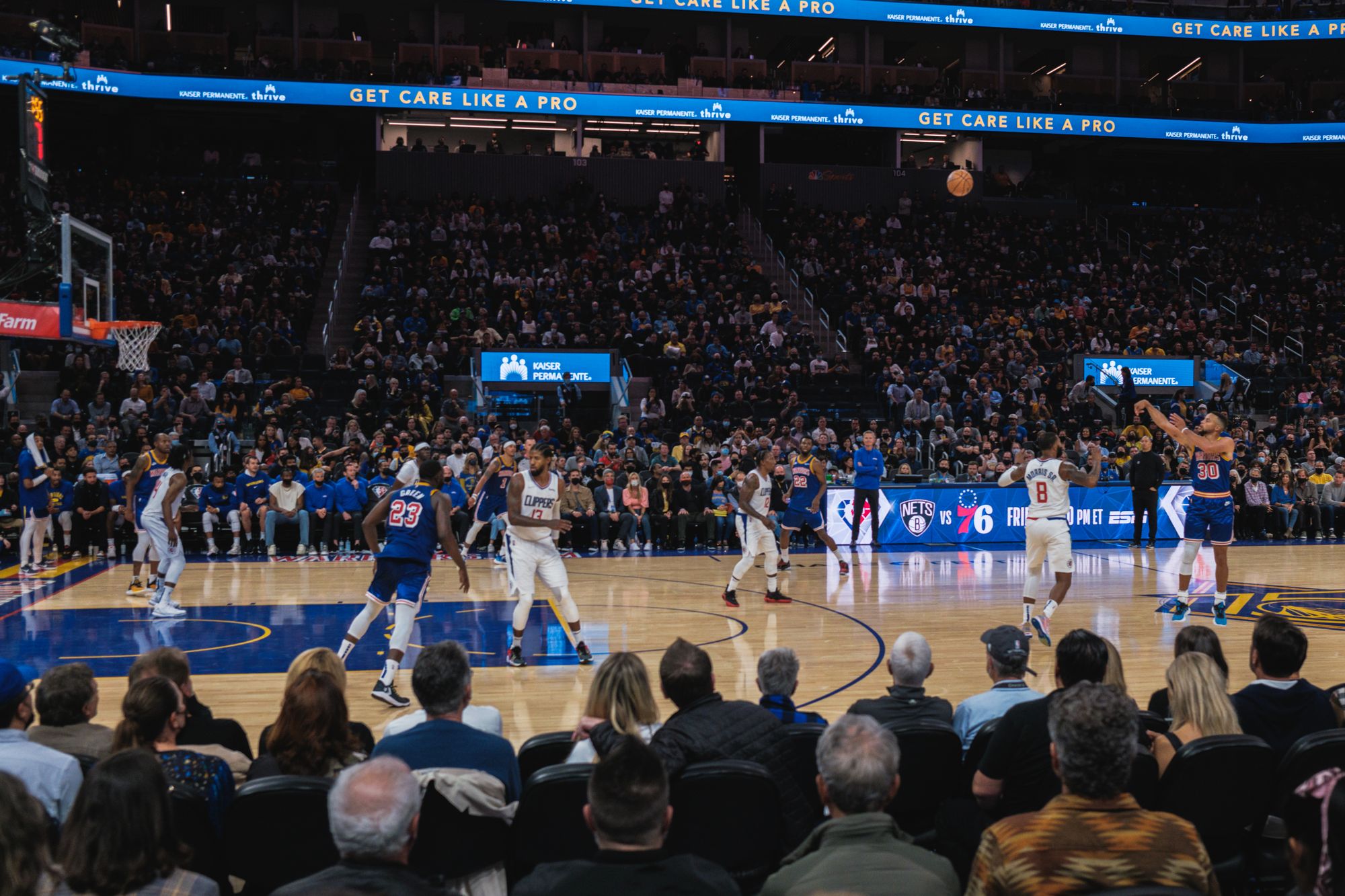 I've been to maybe ten basketball games in my life. A third were Pacers' games as a kid in Indianapolis, a third were post-Jordan Bulls' games while we lived in Chicago, and a third have been Nets' games since moving to Brooklyn. This was my first time sitting on the floor. It was fascinating how much off-the-court action there was to see. Adam Silver sat in the row in front of us, and kindly waved when Ricky shouted,"Commish!" on his way back to to his seat.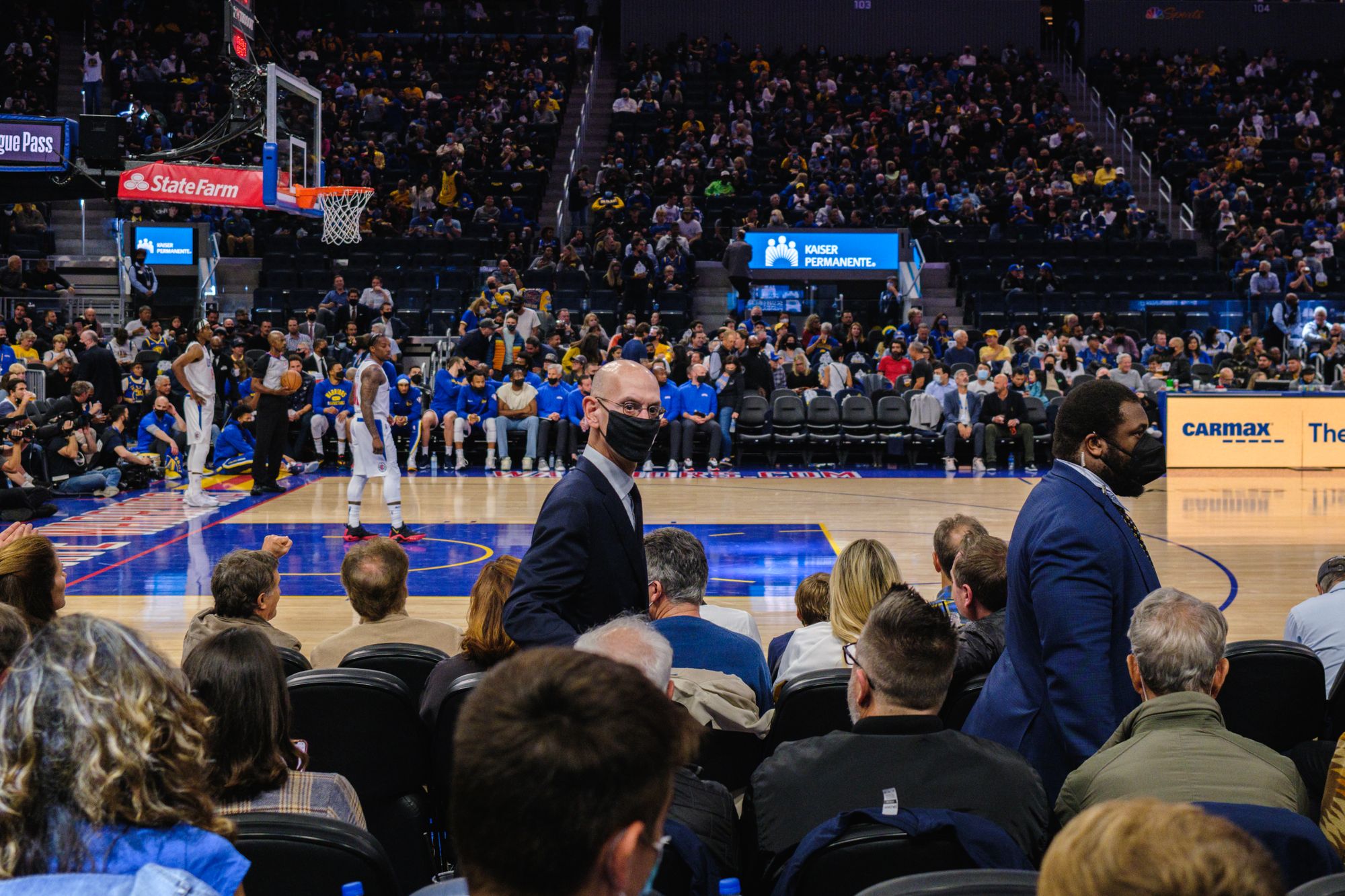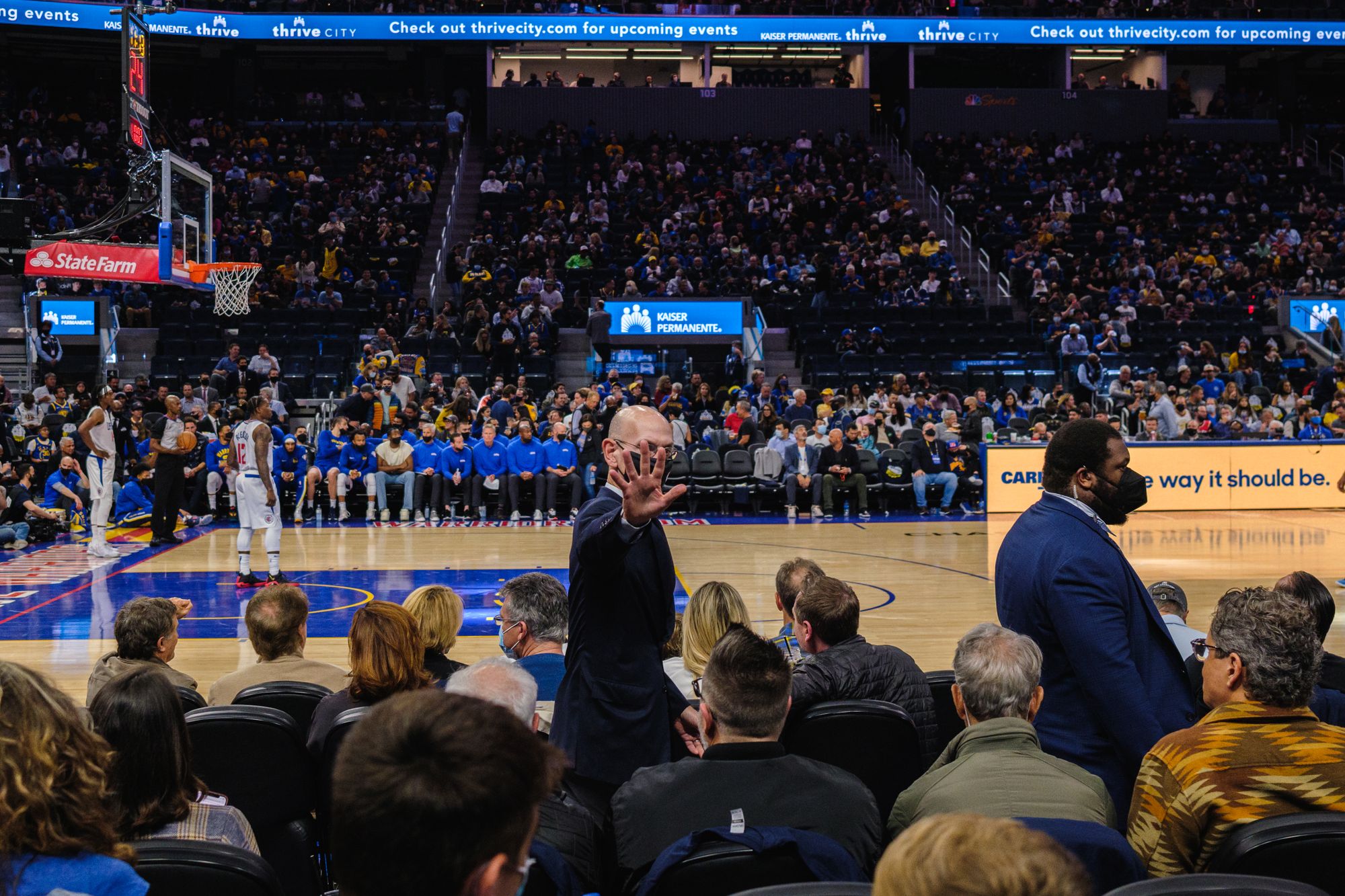 The Bay Area rapper E-40 had court-side seats. I'm unfamiliar with his work, but he was clearly the most popular fan in the arena that night.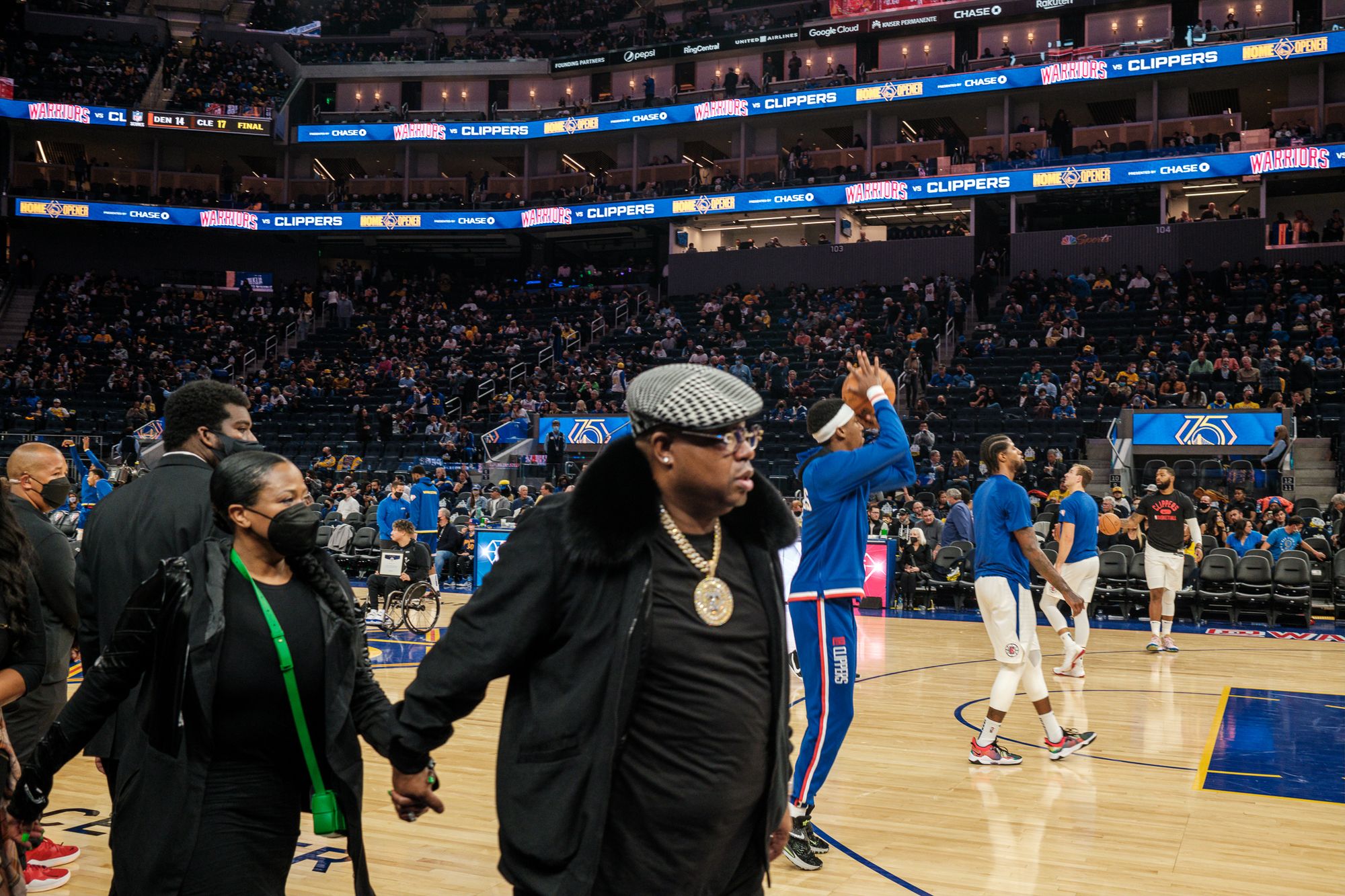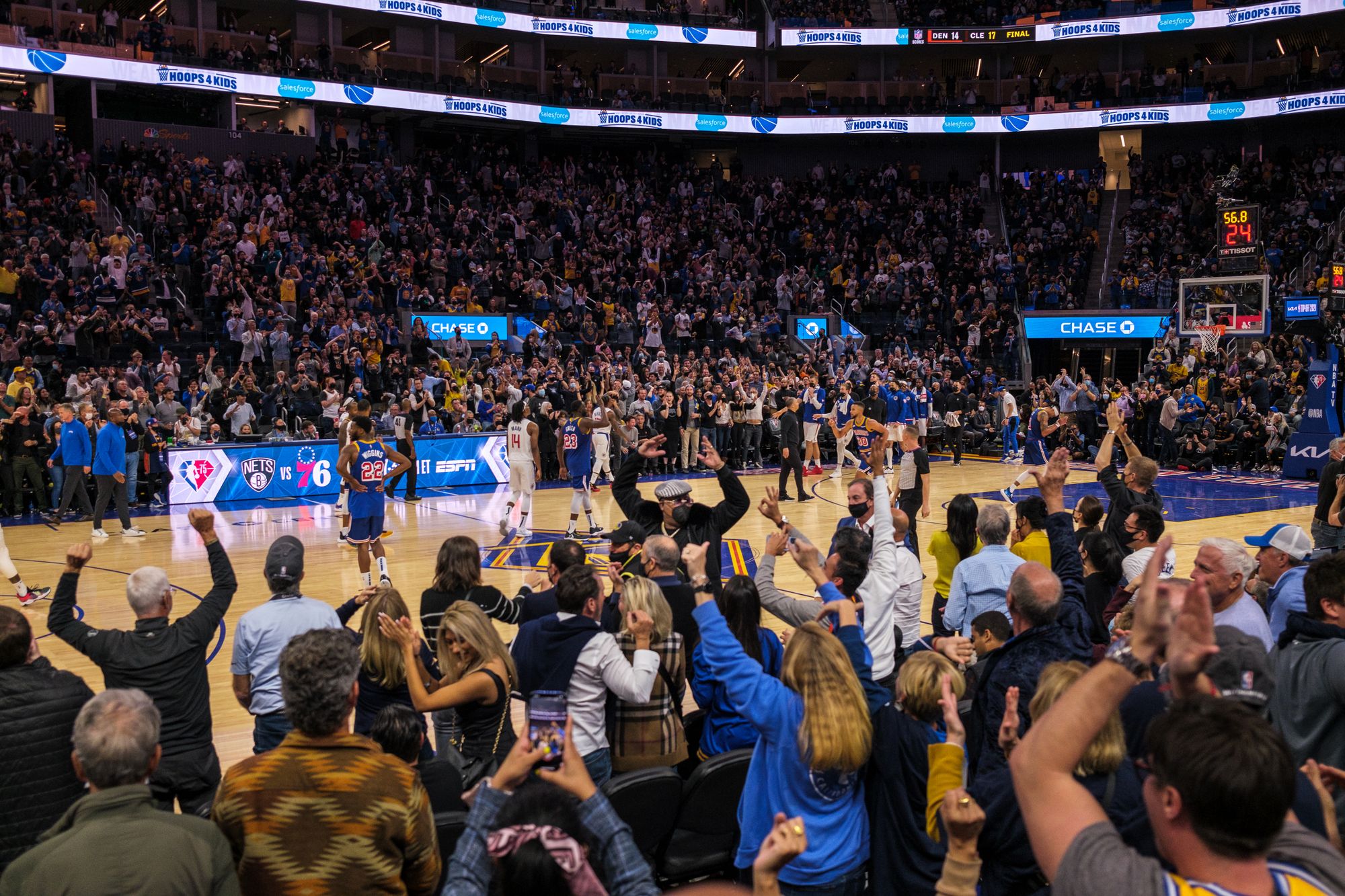 The highlight for me though, was Reggie Miller, who was providing color commentary for the live broadcast on TNT.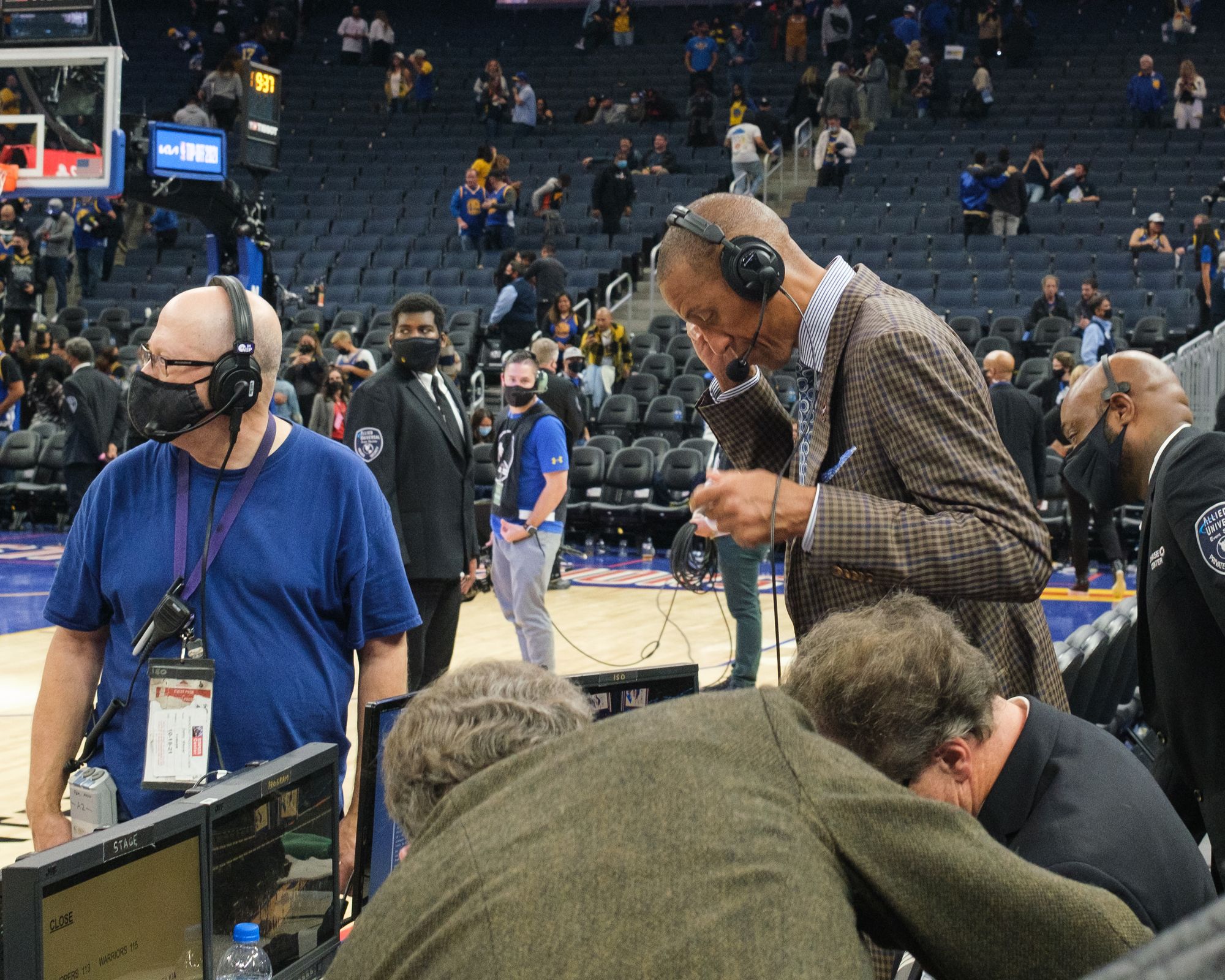 I've never been much of a sports fan, but growing up in Indianapolis in the 90s, Reggie Miller was second only to Jesus in praise and reverence.
Just a few hours before the game, Reggie Miller was named to the NBA's list of the 75 top players of all time. He here is finding out on-air that he made the list. (Notice the same suit as the photo.)  It's worth watching the first few minutes of this clip to see his reaction. To see his humility. How he deflects the attention from himself to his family and other players. How he brings it back to Stefan Curry, the man who is supposed to be the star of that night's story.
There's a line in this YouTube clip where Reggie says, "I was doing my research for this interview with Stef...."
During the game, I was lamenting to Ricky that it's hard to take remarkable photos at an NBA game. Stefan Curry has over 13,000 field goal attempts in his career. Every single shot was captured at multiple angles by multiple photographers working with better gear, talent, and access than I have.
Photographers like this guy: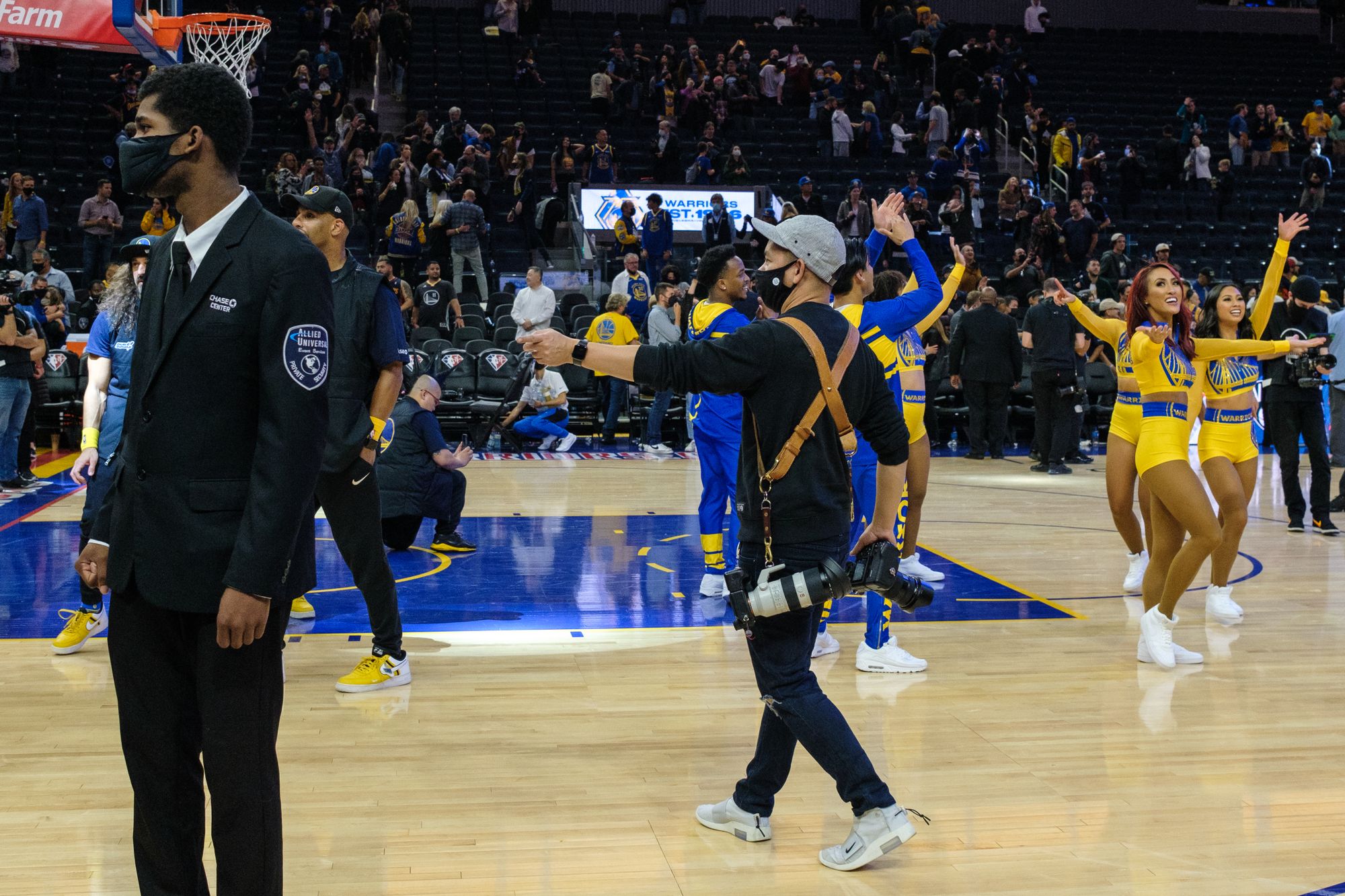 The shots I've posted above are cool, but they don't tell you any stories that you haven't seen before.
That's why my favorite photo from the night isn't Stefan Curry sinking a three from 12 feet behind the arch, or a celebrity closeup. My favorite shot of the night is Reggie Miller's desk at halftime, snapped in stride while I was walking to the bathroom.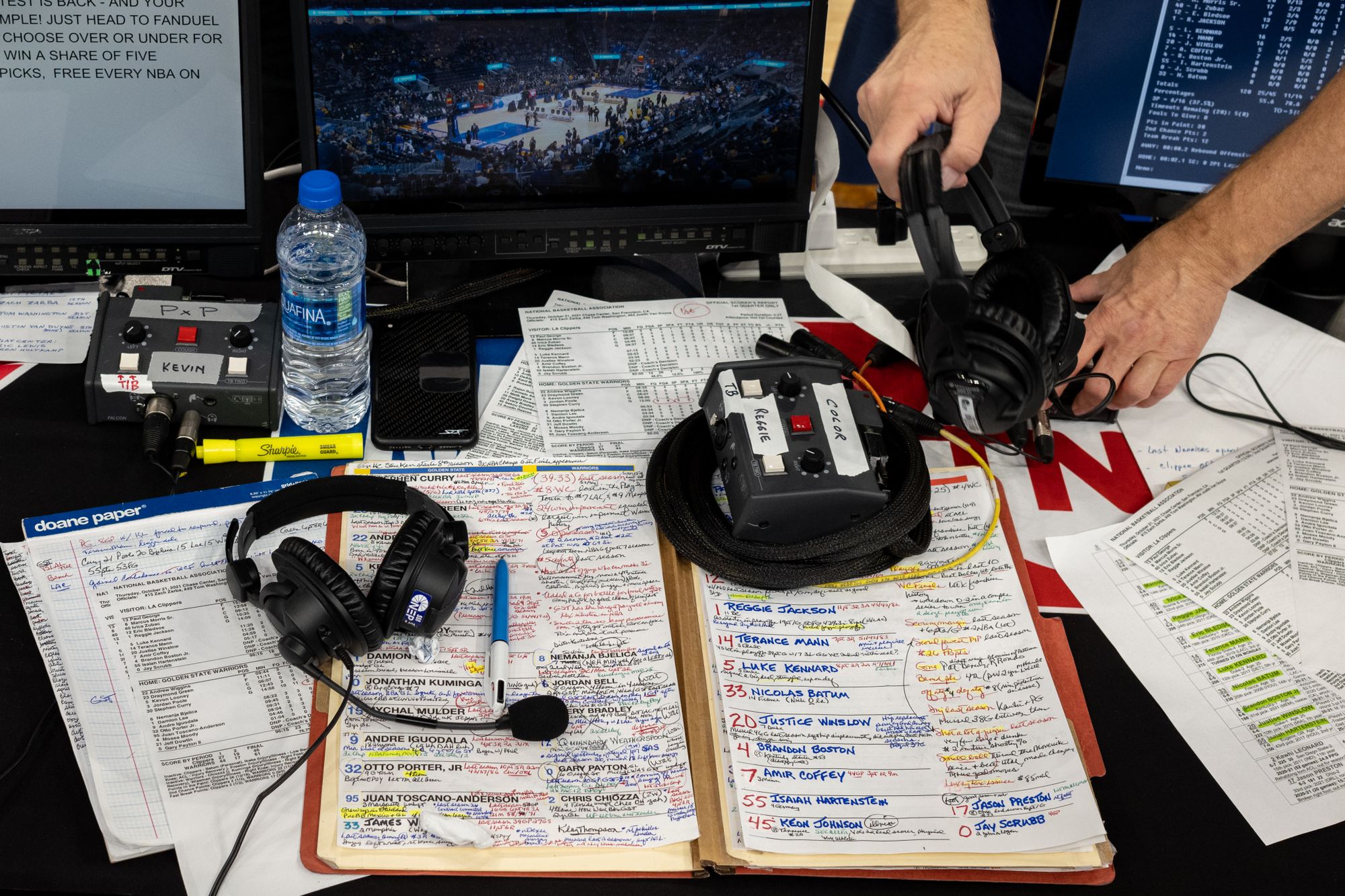 I love the piece of tape that tells you it's Reggie's. I love the multi-colored pen, and the handwritten notes in small print. I love the highlighter, and the places where it's been used. I love the XXs over the injured guys who aren't playing, but who were prepared for anyway. I love the printouts of the boxscore from the first quarter and the TV that lets Reggie empathize with what the audience is seeing at home. I love the messiness of it all.
It'd be easy for me to think that Reggie retired as one of the best players of his generation, and then fled to a "comfy broadcasting job." As if speaking contemporaneously to an audience of millions for three hours is "comfy." It'd be easy to think that the part of his brain that drove him to work harder than a bunch of other world-class performers simply turned off when he stepped out of uniform. Or that it was natural ability as opposed to preparation that led him to become among the best in the world.
Pictures of athletic accomplishments are cool, but I'll never truly understand the amount of effort that goes into being able to confidently drain a fifty-footer. But I've spoken contemporaneously to an audience before – and Reggie's preparation and process is inspiring to me.
I'd love to learn more about it. I've done some Googling, but haven't found anywhere where he's talked about the transition into becoming a broadcaster, how he prepares for games, or what carried over from his playing days and what he had to learn from scratch. If anyone finds anything like that, let me know.